Looking out to produce low budget music video?
You have come to the right place! Welcome to Digital Studio!
Music videos are all the rage these days, with lot of singers experimenting and aiming for name, fame and glory.
Music videos fall in the same genres as the music being played in the video!
Some of the popular music genres are hip-hop, metal, rock, Indie, pop, rap etc.
Another way to categorize a music video is based on the visuals, depending on the how the video has been produced, location, budget etc.
Music genres can be categorized into Performance Music Videos, Narrative Music Videos, Concept Videos, Lyric Videos and Animated Music Videos.
The most common and oldest format is performance based music video, where the singer is featured in the video.
In a typical performance-based video, the lead singer is featured prominently and either performs live in front of the audience and that is recorded, or in a studio where he/she lip-syncs the song.
We have the experience and expertise in production of low budget performance based music videos.
Example of low cost music video »
Credits »
Video Editing & Camera : Ravi Tuteja
Direction: Pashminu Mansukhani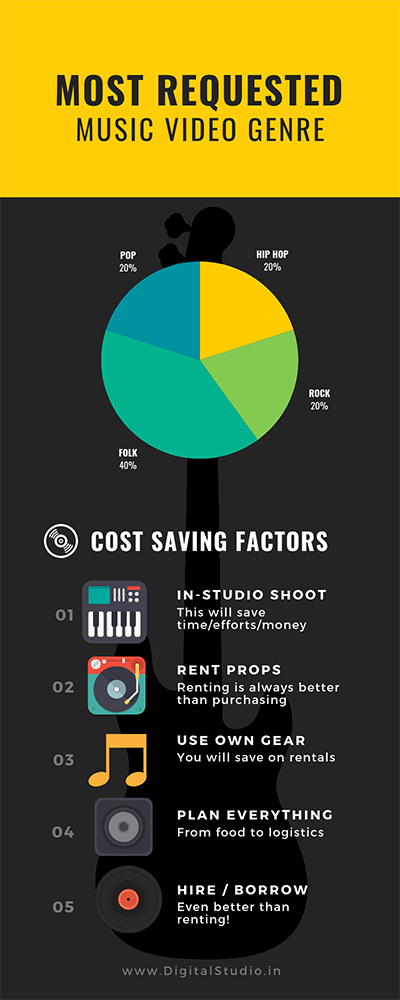 For one of the projects undertaken by Digital Studio »
Client had composed the song along with the lyrics.
As this was a shoe string budget music video, costs were kept to minimum.
How much does it cost to make a cheap music video?
Well, this depends on the budget.
We can shoot a video for as low as Rs. 75,000 to Rs. 2 lakhs ;)
Some important considerations deciding the cost factor is who is the target audience, what is the marketing strategy and where is the location.
For the bare minimum project, we do the setup in our Ghatkopar studio; where we have the flexibility of time, resources and space.
We have complete professional setup of lights, camera gear and a host of lens.
A typical shoot schedule, excluding the set making time, would be about 4 hours for a single song.
Prerequisites for a low budget music video:
MP3 / WAV file of the complete song.
Reference video links.
Music Video Contract.
Shoot schedule.
Shoot of b-role shots, purchase of stock videos/photographs.
The following were important factors while producing this performance based music video:
Reference video shared with the client.
Setup of decorative lights & decorative items.
Placement of shooting lights, camera angles, lens selection etc.
Low budget music video ideas »
Location and travel are two critical cost factors that need to be considered for a shoe-string music video production.
Scout for local cafe's, friends' home, open space / play ground or even a terrace.
Yes, a decent budget would be certainly help to shoot at good resort / beach or even a hill station.
In order to keep the cost factor (read time factor) to the bare minimum, here is a check list:
Organise everything in advance.
Schedule the arrival of props well in advance.
Arrange for the food / beverages in-studio. Taking out the team for a luncheon can be expensive and time consuming affair.
Select a shoot location, that is easy and cheap. Arrange and negotiate with property owner well in advance of the shoot date.
If the shoot can be done in-studio, this single factor will cut the production and travel costs by a large factor.
---
Behind The Scene »